About Education Enrichment Center
The Education Enrichment Center (EDEN Center)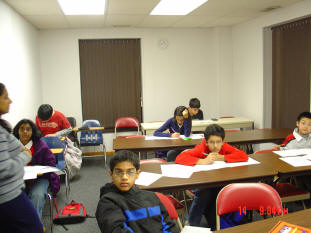 is a Michigan-based weekend school founded by Mrs. Purnima Gupta and Mrs. Krishna Patel in 2006. Although the need for extra-curricular mathematics training has been recognized, few organizations have been able to deliver quality and personalized guidance to the talented children and young adults who deserve it. Some programs throw hundreds of problems at students with no direction; other groups' commercial interests outweigh the needs of the students.

The truth is, some students find the math at their school to be mundane and they need something more challenging. But some of these students are not interested in or are not ready for the alternative - the challenge of competitive math. The EDEN center bridges the gap that exists between the structure of the student's school system and the problem solving required in the most difficult mathletics. Instead of blindly jumping from the concepts of school work into fierce academic competitions, students at Eden can learn math subjects of higher grade levels or reinforce the concepts which will allow for success and confidence in any mathematical scenario.

Students can use EDEN to help them test-out of those mundane classes at school or to make sure they have the fundamentals necessary to pursue top placements in MathCOUNTS or MMPC.